CAMPS FOR HIGH SCHOOL AND JUNIOR HIGH ATHLETES LOOKING TO IMPROVE THEIR LEVEL OF PLAY!!!
AFFORDABLE AND BENEFICIAL CAMPS, WITHOUT HAVING TO DRIVE ACROSS TOWN!!!
CAMP INCLUDES:
TECHNIQUES FOCUS TEACHING WINNING OFFENSIVE AND DEFENSIVE ON IMPROVING INDIVIDUAL SKILLS. All campers will be grouped according to their ability so they can receive appropriate technical and tactical instruction while utilizing individual instruction, as well as small groups, and team like settings to help each athlete improve her skills.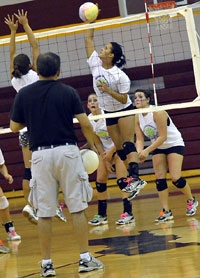 Individual or group training is a good way to start off the summer before summer leagues start. You will learn new techniques and fundamental skills to incorporate into your summer training before your school season starts! Coaches wanting a camp at their high school can contact Ed Garza for openings dates and times!

DIRECTED BY ED GARZA, AUSTIN COLLEGE HEAD COACH AND STAFF.

Aug 12 – Aug 15 Bonham Junior High School 5:00pm -7:30pm

FOR MORE INFORMATION CALL 972-849-3597 or check out the website @ www.hivolleyball.com