Leonard, Texas -- The long-running annual Leonard Picnic completed its 140th year this past weekend. During my inaugural attendance last year, I found it to be an old fashioned community picnic like one that might have been held in the pleasant fictional town of Mayberry. It still seems that way to me as everyone I talked with there was very nice.
Each year the picnic is held for four days with many different events and most of them on Friday and Saturday, as the old saying goes "there really is something for everyone."
One of my favorite events was the Friday night concert by Gary Felmet and The Blandelles, a band that specializes in "old time rock and roll." As a child of the '50s and '60s, this music still resonates with me. Gary is a graduate of Leonard High School, and this year was The Blandelles' 34th year to perform at the annual picnic. About a dozen of my friends attended with me, and no one in my group was disappointed. One thing each of us will remember is next time bring a folding chair, standing for several hours can get pretty uncomfortable.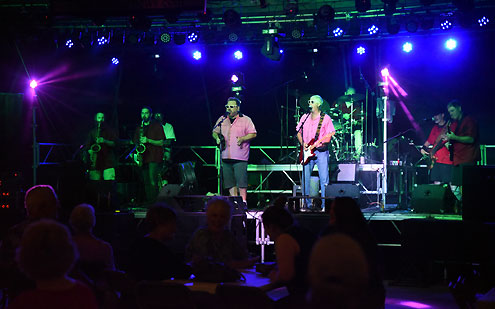 I went back to Leonard on Saturday for a while but did not attend the Saturday night concert and fireworks show, I hope to also attend those events next year. If you want to know any more about the Leonard Picnic my e-mail address is deh63shs@yahoo.com.