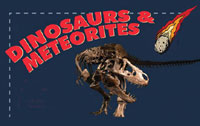 Sherman, Texas -- The Sherman Museum is excited to announce that it will be conducting a second session of its annual Dino Academy childrenís workshop series on Wednesday, August 7. Our Dino Academy in June was a success and we wanted to give another opportunity to attend for those that missed it!

The workshops are designed to complement the museumís annual Dino Days exhibition. This yearís curriculum program will focus on the connection between dinosaurs and meteorites. The August 7 class is for ages 6-11 and runs from 9:30 a.m.-3:30 p.m. Students must bring their sack lunch, and parents are not required to attend with their student(s).

All students will receive a colorful Dino Academy T-shirt and an Academy diploma upon completion of the program.

Program activities include:

∑ Interactive guided tours of the current Dinosaurs & Meteorites: A Flash from the Past exhibition

∑ Presentations teaching students about the Dinosaurs, Meteorites, and the connection between them

∑ Arts and Crafts sessions

The cost of the workshop is $40 per child. Space is limited to 20 children in the session, and their spot is only reserved upon payment.

For more information and class reservations please stop by the museum Wed.-Sat. 10am-4pm or give us a call at 903-893-7623.

About The Sherman Museum

The Sherman Museum is a non-profit 501(c) (3) educational organization devoted to collecting, preserving and interpreting objects of historical significance for visitors and residents of Grayson County and the Greater North Texas Region. The museum was previously known as The Red River Historical Museum prior to a name change in March 2011.