If you're one of the many people that sit around feeling sorry for yourself because you think you have nothing to do, you should consider volunteering. While volunteering is often thought of mainly for older adults, it is something people of all ages can do. Right now there is a tremendous need for volunteers at the Perrin Air Force Base Museum, the Sherman Ex-Student's Association Museum, and the Wilson N. Jones Hospital Auxiliary.
The Perrin Museum is very interesting as it shows how Perrin Field was very important to this area. Their volunteers are mainly older military veterans, and the need is great for younger volunteers to learn about the history and give their time to help keep the museum operational. You don't have to be a military veteran to be a volunteer there.
The Sherman Ex-Student's Association Museum is devoted to the history of all Sherman schools. When you buy a lifetime membership for $100, half of that fee goes into their scholarship fund. In this way they not only celebrate the past but help build the future by awarding scholarships.
The Wilson N. Jones Hospital Auxiliary has existed for more than 50 years, and it has a tremendous need for volunteers of all ages. Three areas at WNJ where volunteers are needed that come to mind right away are the gift shop, the information desk, and the popcorn stand. There are also several other places in the hospital where volunteers can serve.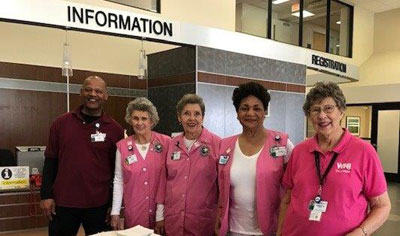 Five of the many WNJ Auxiliary volunteers.
Since I live in Sherman naturally I'm more familiar with the three institutions I mentioned, but Iím sure there are several places not far from where you live that may also need volunteers. It's been proven that volunteering helps counteract the effects of such ills as anger, anxiety, and stress. It also combats depression and provides a sense of purpose.
One of my favorite quotes about volunteering is, "You make a living by what you get, you make a life by what you give back." If you have any comments or questions my e-mail address is deh63shs@yahoo.com.