Bonham, Texas -- Pick out your favorite Hawaiian shirt and put on your flip flops because Powder Creek Pavilion will look like Margaritaville this Saturday night, August 17 when Fin City takes the Powder Creek Pavilion stage at 8:00 p.m.
"This is one of the area's best Jimmy Buffett tribute bands," says concert promoter Rick Massey. "We will be going with a Hawaiian theme -- surfboards, tiki torches and leis. Bring your Hawaiian shirts, straw hats, sunglasses, and little umbrellas. This is going to be tons of fun. Don't miss it."
For more information, please call 903-227-1911.
Music is scheduled to begin at 8:00 p.m.
Admission is $10.
Bring your coolers!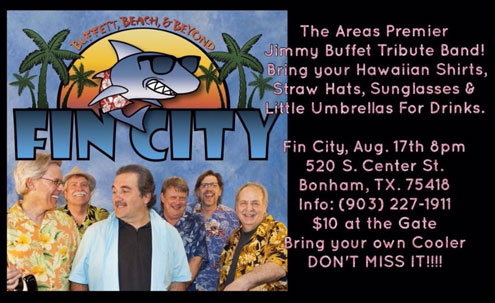 Powder Creek Pavilion is located at 520 S. Center St., Bonham, Texas 75418. For more information, please visit www.powdercreekpavilion.com