Sue Evelyn Justice May 17, 1935 – August 11, 2019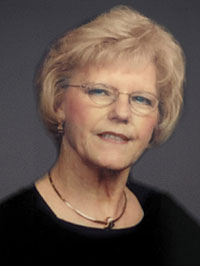 Van Alstyne, Texas -- On May 17, 1935 Sue Evelyn Ashley was born to Harlen and Mossie Ashley in Weston, Texas. She was the youngest of ten children who went to school at Warden School. The Ashley family was a loving, close knit family who loved to gather on Sundays after church at the home of Harlen and Mossie to laugh, enjoy wonderful meals, love and fellowship.

Sue attended Van Alstyne High School where she was a cheerleader for the VAHS Panthers and Homecoming Queen. Sue graduated with the Class of 1952. She had many friends at VAHS and so many fun times spent with her best friend, Patsy Skaggs. It was at Van Alstyne High School where Sue met the love of her life, her lifetime sweetheart, Delbert Justice. Sue and Del were happily married in front of loving family and many friends on July 12, 1953 and have continued for 66 years to set the beautiful example of what true love and devotion means.

After Del's return from military service in Korea they began a wonderful lifelong journey enjoying friends and family. Sue worked at the Van Alstyne City Drug with Jack Strickland for 12 years where she enjoyed many special friendships and knew just about everybody in town, later moving to Richardson where she worked for Steen Pharmacy and became the office manager for Dr. George Richards, DDS.

Sue and Del spent wonderful years traveling to many places, but her favorite was always Hawaii.

Although Sue and Del never had children of their own, they "adopted" hundreds. From their time spent as youth leaders at Elmont Baptist Church until the present. Over the years some of her favorite times were spent at the hundreds of soccer games, football games, volleyball games, basketball games watching her nieces and nephews play the games they enjoyed. It was extremely rare for her to miss a single game or school program or FFA calf show of any kind. For years youth and adults alike have always known and called them "Aunt Sue" and "Uncle Del".

Sue's faith and trust in the Lord Jesus Christ have been a constant part of her life. Comfort is found knowing she is now in the loving arms of the Lord, her Mom and Dad and her 8 siblings who have gone before her. She is preceded in death by her parents, her sisters Christine Rollins, Hazel Reed, Gwen Christian, Linnie Vee Walden, Joyce Brashear and her brothers Coyte Ashley, Jess Ashley, H.N. Ashley and her brother in law and wife Eugene and Shirley Justice. Sue is survived by her loving husband of 66 years, Delbert Justice, her sister Mary Murphy of Farmersville and many, many very special nieces and nephews, and many youth and adults in the area who will always remember and cherish their memories of "Aunt Sue".

Services for Sue will be held at 2:30 p.m. Saturday, August 17, 2019 at Scoggins Funeral Home Chapel, with visitation one hour prior of service. Interment will be private.

Services are under the direction of Scoggins Funeral Home & Crematory, 637 W. Van Alstyne, Pkwy. Van Alstyne, TX, 75495. 903-482-5225.

You may sign the online register book at www.scogginsfuneralhome.com.