Fannin 4-H Club is making a mark across the State of Texas. 4-H is a network of youth organizations whose mission is "engaging youth to reach their fullest potential while advancing the field of youth development.'' The 2019-2020 Fannin 4-H Officers are a prime example of just that. They represent and lead youth from all most all school districts within Fannin County.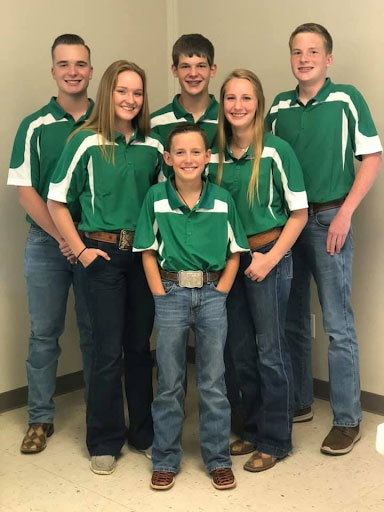 Back row (left to right): Randy Arris, Caleb Arris, Carson Arris. Middle row (left to right): Braylee Cowen, Lauren Newman. Front row: Austin Newman
The 2019-2020 President is Lauren Newman, a senior at Leonard High School. She has earned a leadership position at each level of 4-H this year. Lauren will not only be the Fannin 4-H Club President, but also Fannin County 4-H Council President, District IV 4-H President and a State Leadership Ambassador on Texas 4-H Council.
The Club Vice-President is Braylee Cowen. Braylee is a Junior at Dodd City High School and is over Public Relations for the Fannin County 4-H Council this year. She represents Fannin County as a Texas 4-H Livestock Ambassador.
The Texas 4-H Livestock Ambassador program strives to provide high school aged 4-H members, the opportunity to develop and practice advanced leadership skills related to mentoring other youth, and to become advocates for animal agriculture. Only 75 are chosen in the state of Texas and they must contribute 40 hours of service in presenting topics in agriculture advocacy, nutrition, selection, daily maintenance and care, showmanship, sportsmanship, preparing new 4-H families for show, and management of show animals during a livestock show. This is after completing a vigorous advanced curriculum and passing a 150-question exam.
Braylee has also just recently been selected to serve on the Junior Beefmaster Breeders Association District 5 Board of Directors. This is a tremendous accomplishment as she will be representing twelve states at the national level.
This year's Fannin 4-H Club Secretary is Caleb Arris, a freshman at Bonham High School. Caleb will be serving as the Fannin County 4-H Council 2nd Vice-President, District IV 4-H Parliamentarian and has applied for State Shooting Sports Ambassador.
Texas 4-H Shooting Sports Ambassadors represent the Texas 4-H & Youth Development Program and specifically Texas 4-H Shooting Sports for public relations purposes at special events such as donor/supporter functions and with the general public, peer groups, 4-H groups, community service groups, schools and media contacts. They serve as spokespersons for the 4-H Shooting Sports program, helping to make 4-H Shooting Sports programs more visible.
This year's Fannin 4-H Club Treasurer is Carson Arris who will also be a freshman at Bonham High School. Carson will be serving as the Fannin County 4-H Council Parliamentarian. Carson is a State Healthy Lifestyle Ambassador.
The Healthy Texas Youth Ambassador Program is made up of high school aged youth who are passionate about health and committed to being advocates for healthy living in their communities. The youth ambassadors are empowered to educate and make a difference as they provide leadership to educational programs on what it means to live a healthy lifestyle.
The Public Affairs Officer for the Fannin 4-H Club is Randy Arris, Jr., a senior at Bonham High School. Randy will be the 1st Vice-President for the Fannin County 4-H Council and recently completed his term as the District IV Vice-President and State 4-H Council Vice-President. Randy has applied for Texas 4-H STEM Ambassador, previously known as the Texas 4-H Technology Team. The STEM Ambassador covers the Science, Technology, Engineering and Math areas of the 4-H program.
The Delegates representing Fannin 4-H club to the Fannin County Council are two up and coming 4-H'ers, Austin Newman (6th grade at Leonard Jr High) and Seven Collier (5th grade at IW Evans Elementary, Bonham ISD). A Council Delegate from each club serves on the County Council with other club officers, such as the President.
These officers, along with the other members of the club, stay busy all year in a broad range of competitions. The Fannin 4-H Club has teams or individuals that compete in Robotics, Consumer Decision Making, Shooting Sports, Educational Presentation, Public Speaking, Food Challenge, Photography and beef projects; with Braylee showing Beefmaster Heifers and Austin & Lauren Newman showing Hereford Heifers. This group of students is very competitive on all levels, but they encourage and support each other in all they do and are a great reminder that hard work and dedication pays off.
The Fannin 4-H Club Managers for the 2019-2020 year are: Club Manager Dr. LaTonia Arris, Co-Club Manager Ashley Newman, and Co-Club Manager Melissa Dougan. The managers of the club aide the youth in running meetings, holding practices for various projects, and coordinating different activities such as community service events for the club.