Celeste, Texas -- A celebration of life memorial service for Garland Dwayne Evans is scheduled for 2:00 p.m. Friday, August 23, 2019 at the First Baptist Church of Celeste. Family visitation will be from 1:00 p.m. until service time.
Garland Dwayne Evans, 70, passed away on the morning of August 18, 2019. He was born in Bonham, Texas on September 18, 1948 of parents Ralph and Winnie Evans. In 1967, he graduated from Celeste High School where he participated in every sport and excelled at football. His football skills earned him a scholarship to East Texas State University.
Garland proudly served in the US military for 25 years. He was drafted into the US Army where completed a tour in the Vietnam War with the Army Corps of Engineers. Later, he re-enlisted in the US Navy Seabees. During his time in the Navy, he was deployed and traveled the world where he fell in love with The Philippines. Throughout his travels, he had the ability to make lifelong friends wherever he went. After retiring from the Navy as a Chief Petty Officer, he spent 17 years working as a Project Superintendent, Quality Control Manager or Project Manager for various large projects.
On May 21, 1980, Garland married Patty and remained a faithful, loving, and devoted husband for 39 years. He was especially proud of his children and grandchildren, often speaking of their accomplishments. He always looked forward to their visits and calls. Within the next month, he planned on an extended visit to Virginia to see his grandchildren.
Garland was a proud patriot and had unconditional love for his family. He was a kind, generous, and humble man. Garland loved the Lord, never looked down on anyone or tried to impress others. He was always willing to help friends and family members with no strings attached.
He loved reading the Bible and spreading the word of God. In his free-time, he enjoyed watching documentaries, going out to eat, shooting his guns, online shopping, and overfeeding his granddog, Maggie, with people food. Additionally, he may have enjoyed watching Fox News from time to time.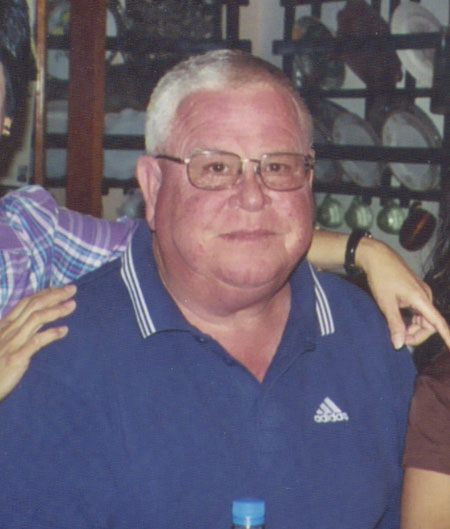 Garland is survived by his wife Patty Evans, his two sons; Brian Evans of Fredericksburg, VA and Chris Evans and wife Laura Evans of Stafford, VA, his to daughters; Michele and husband Mark Scoggins of Leonard, TX, and Kirsten Evans and boyfriend Tanner Price of Celeste, TX, grandchildren; Cassidy Evans, Will Scoggins, Ben Scoggins, Ella Evans, and Lily Evans, three brothers; Ralph Evans Jr. and wife Lou Evans of Celeste, TX, Donnie Evans and wife Pam Evans of Celeste, TX, and Bill Evans of Como, TX, and several nieces and nephews.
Turrentine-Jackson-Morrow Funeral Home of Leonard is in charge of arrangements. An online register may be signed at www.tjmfuneral.com.