Wylie, Texas -- The Kaleta A. Doolin Foundation has donated one million dollars to Collin County-based Agape Resource & Assistance Center, Inc to develop Jericho Village™, a 38-unit income-based, urban apartment village to be located in Wylie, Texas. With groundbreaking planned during Fourth Quarter 2022, Jericho Village will provide economically attainable housing to homeless, women-led families graduating from Agape's transitional housing program and other households that struggle to stay reliably housed due to the critical lack of affordable housing.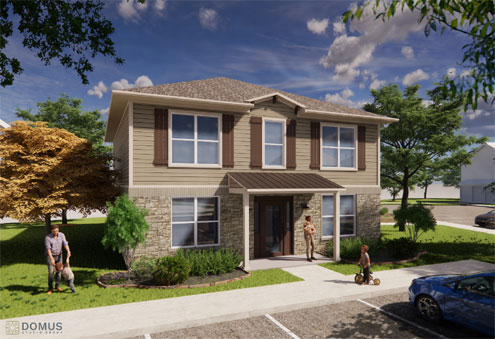 Artist's rendering of house in Jericho Village™
"Working with Agape on Jericho Village will help create a long-term solution that specifically benefits women and girls transitioning out of homelessness," states Kaleta Doolin, Founder of the contributing foundation. "The foundation board feels that Jericho Village is a solution to the large and increasing need in the community."
"We are honored to have the support of The Kaleta A. Doolin Foundation to help end the cycle of repeat homelessness for women and children," says Janet Collinsworth, Founder and Executive Director of Agape Resource & Assistance. "While it's hard to believe that homelessness exists in an affluent area like Collin County, there are women and children who fall on hard times. With the help from the foundation and others, we are investing in a future where families in need will have a safe and stable home."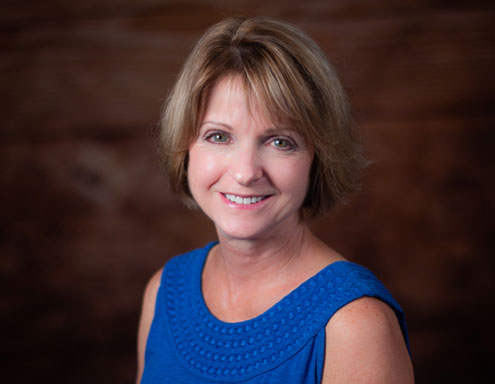 Janet Collinsworth
Just north of Dallas, Collin County is known for beautiful and safe suburbs, excellent public schools, and general affluence among its roughly one million residents. Even before the pandemic, homelessness rates in Collin County were steadily rising annually. In fact, the number of Plano ISD children identified as homeless has increased fivefold since 2009. Recent statistics also show that there are an estimated 6,500 households that are one crisis away from homelessness and almost 75% of these households are women-led.
With more than eight years of proven success, Agape has empowered women with education, life skills and the confidence to become self-sustaining through its innovative training and counseling support
. Despite the excitement of graduating, Agape soon found that every woman who launched from their program was faced with the near-impossible task of finding safe, economically attainable housing for her household in Collin County. According to the National Low Income Housing Coalition, North Texas ranks in the top 10 worst metropolitan areas for affordable housing. Their 2020 study showed that Dallas/Fort Worth has only 21 affordable and available homes for every 100 low-income renters.
Jericho Village will be an inclusive, scaled-rent and innovative solution to ending the debilitating lack of economically attainable housing in Collin County. Building on the success of Agape's transitional housing program, on-site case workers will help Villagers gain convenient access to empowerment support services including equitable access and assistance with childcare, transportation, workforce education and training, financial literacy, budgeting, and counseling. By offering mixed-income rental homes and support services, Jericho Village will provide individuals and families with the tools needed to retain or attain economic, emotional and physical stability.
Jericho Village™ site rendering
In March, the City of Wylie approved zoning for this life-changing project that will help to fill a significant gap in Collin County social services. Other Jericho Village community stakeholders include First Baptist Church of Wylie and Catholic Charities of Dallas. In addition to the generous gift from the foundation and support from the other stakeholders, Agape has the goal to raise an additional $750,000 by the first of September.
Interested in learning more about how you and your organization can be a part of this innovative solution? Credit Union of Texas Charitable Foundation will be hosting a complimentary lunch on Thursday, August 18 from 11 a.m. to 1 p.m. at Chase Oaks Church's Legacy Campus in Plano. Ashley Brundage, Executive Director of Housing Stability and Sr. VP of Community Impact at United Way of Metropolitan Dallas, will discuss the state of homelessness in Collin and Dallas counties. Collinsworth will introduce Agape's Jericho Village. To RSVP, visit HERE or call Angie Dunaway at 817-875-2645.
For more information, visit www.jerichovillage.org or contact Janet Collinsworth at Janet@Hope4Agape.org. For the latest updates, follow Jericho Village on Facebook and Instagram.
ABOUT AGAPE RESOURCE & ASSISTANCE CENTER
Agape Resource & Assistance Center, a Collin County-based non-profit, provides housing and transitional services to homeless single women, moms and their children that empower them to move from homelessness and crisis to fulfilling, self-sustaining lives. More than 85% of Agape women are victims of abuse and violence, some from human trafficking. Agape provides safe, stable housing and transformational services that empower the women to achieve stability. Currently, the agency operates eight housing units with 45 beds in East Plano, strategically located near childcare and public transportation. For more information, visit www.hope4agape.org or follow them on Facebook, Twitter and Instagram.
ABOUT THE KALETA A. DOOLIN FOUNDATION
The Kaleta A. Doolin Foundation, a feminist non-profit organization, is dedicated to being a resource and strategic partner for social and environmental justice by protecting and advocating for women and girls for the purpose of advancing diversity, equity, and inclusion in the arts and sciences. For more information, visit www.kadf.org.